Description
An enormous sea monster has been attacking fishing vessels of late. It must be stopped before it causes more destruction!
Availability
This errand is available after defeating Al-Khemi in Castaway Cove.
Guide
This creature can be found swimming around Robinson Island. Disembark the Sea Cow and check your local map to get an idea where it's current position is. It's wise to equip weapons that inflict the Storm element since the creature is weak against it. Abilities such as Thunderspark are particularly effective in this battle, so be sure to command your Drongo manually and have a full MP bar at the start of the fight.
Defeat it and you'll complete the bounty hunt, return to the Swift Solutions to claim your reward.
Videos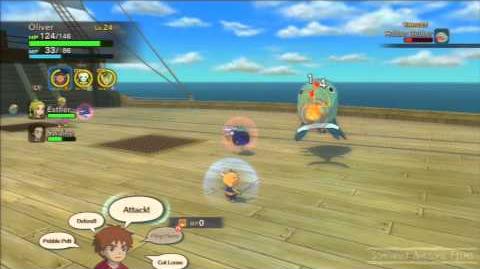 Ad blocker interference detected!
Wikia is a free-to-use site that makes money from advertising. We have a modified experience for viewers using ad blockers

Wikia is not accessible if you've made further modifications. Remove the custom ad blocker rule(s) and the page will load as expected.