Carrot Cake
Image not Available
Stats
Type
Familiar Treat
Japanese
Romaji
-
-
Heaviness
Familiarity
1
1
Attack
Defense
-
-
Magic Attack
Magic Defense
8 – 10
-
Accuracy
Evasion
-
-
Packed with sweet, juicy carrots, this cake is a good way to get children to eat more vegetables.
Additional Information
Favorite of: Nymphae, Arcana, Mortui
Acquired: Drop by Stabber, Steal from Mohawk, Hidden treasure at Shimmering Sands, Errand 005
Purchase:
Sale: 150g
Recipe: 1 Cake, 3 Crunchy Carrots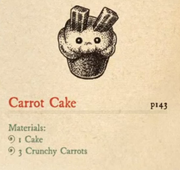 Ad blocker interference detected!
Wikia is a free-to-use site that makes money from advertising. We have a modified experience for viewers using ad blockers

Wikia is not accessible if you've made further modifications. Remove the custom ad blocker rule(s) and the page will load as expected.