Ding Dong Dell
Comments

2
658pages on
this wiki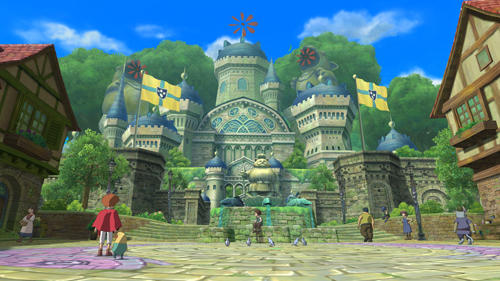 Ding Dong Dell
(ゴロネール王国 Goroneeru Kingdom)  is one of the first places in the Other World that Oliver visits with Drippy/Shizune. It's at the town's item shop where Oliver changes into his traveler's clothes, as his normal ones were deemed "goofy".
Outside its gates introduces Oliver to brokenheartedness in the form of a guard who couldn't be bothered to let people through the entrance gate.
Also located here is Ding Dong Well (ゴロネール地下水道 Goroneeru underground waterway), which has recently gained a mice problem by the time Oliver arrives.
Characters
Location
Ding Dong Dell is located in the center of the northern The Summerlands (ミド大陸北 Middle Continent), situated near the The Rolling Hills (北の森 North Forest).
Hootique
Cawtermaster
Treasure
Trivia
 See this page for information on the English renaming of the town, as well as to what the renaming refers to.