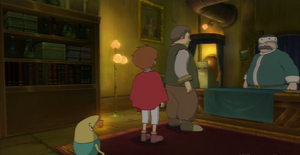 Description
A Hamelin shop worker is having trouble staying awake while working, and is in danger of losing his job.
Availability
This errand is available to complete after defeating Candelabracadabra on The Tombstone Trail.
Guide
Talk to the employer of the black market shop in Hamelin, who appears to be lacking quite some restraint. If you haven't already gotten some, get it from the guard in the southwest corner of Hamelin's main street (northern part of the city). You know the drill; perform the exchange to claim your reward.
Videos
Ad blocker interference detected!
Wikia is a free-to-use site that makes money from advertising. We have a modified experience for viewers using ad blockers

Wikia is not accessible if you've made further modifications. Remove the custom ad blocker rule(s) and the page will load as expected.