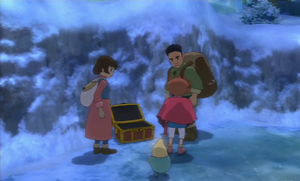 Description
One of the traveling merchants suddenly finds himself unable to trust anyone, much to his wife's dismay.
Availability
This errand is available to complete after defeating Cap'n Crossbones and arriving at Yule, as well as completing Errand 036.
Guide
The merchant couple we've been dealing with for quite a while needs help again. Talk to the husband in the northern section of Yule on the left side to learn that he needs some belief. Luckily, the Tomte standing next to Swift Solutions has some, so do the old switcheroo to restore the husband back to his old ways.
Videos
Ad blocker interference detected!
Wikia is a free-to-use site that makes money from advertising. We have a modified experience for viewers using ad blockers

Wikia is not accessible if you've made further modifications. Remove the custom ad blocker rule(s) and the page will load as expected.