Description
A blue crab in Castaway Cove asked you to look for his missing friend.
Availability
This errand is available to complete after defeating Swaine's Nightmare in Castaway Cove.
Guide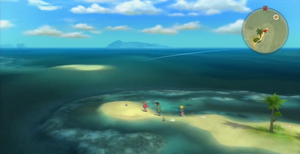 Use the Nature's Tongue spell to talk to the crab on the second pier in the harbor, and he'll ask you to look for his missing crab friend.
You'll have to set sail first in order to complete this errand. Once you do, head over to the east side of Robinson's Island and look for the crab on the far (north)east sandbank. Speak to him and return to the crab in Castaway Cove to deliver the message that he's doing well.
Videos
Ad blocker interference detected!
Wikia is a free-to-use site that makes money from advertising. We have a modified experience for viewers using ad blockers

Wikia is not accessible if you've made further modifications. Remove the custom ad blocker rule(s) and the page will load as expected.