Horace, the Sage of the Ages
Comments

0
438pages on
this wiki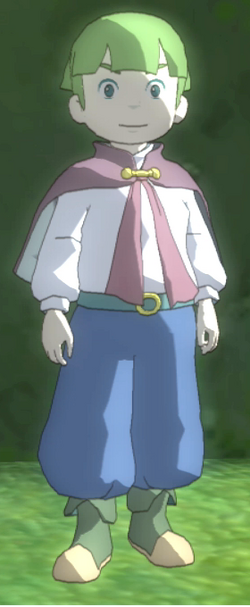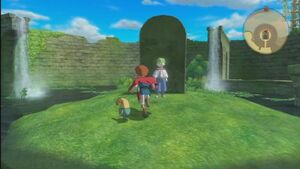 Horace, The Sage of the Ages (魔法使いの「ミラント」Magic User "Miranto") is a ghost in the shape of a little boy. He has green hair and a pink cape, and is originally seen as a blue floating spirit/ghost next to a tombstone to the right of the palace courtyard in Ding Dong Dell (ゴロネール王国 Goroneeru Kingdom).  He quizzes Oliver on trivia from the Wizard's Companion/Magic Master and rewards him with spells.
Oliver must use Spirit Medium スピリトーク (Spirit Talk) to talk to him whenever they meet.  
Horace/Miranto implies that he is very, very old but has lost some of his memories.
Meeting Locations
The Sage spent a long time in Ding Dong Dell without meeting anyone who could see or converse with him, and after having a chance to talk to Oliver, develops a case of wanderlust.  He then proceeds to travel around the world, visiting towns and settlements in approximately the same order that Oliver does (though sometimes somewhat behind him).  
He appears in these places (sometimes inside...):
Zodiarchs Chamber
Post game
At Ara Memorae, after the battle with Gallus, Horace would appear as an adult and has somewhat more extensive knowledge than before. He then gives you the Astra (バルゼノン Baruzenon) spell after answering his question.
Post game, he will post at every swift solutions "I am waiting at Ara Memorae." And then provide a side quest. The side quest reveals Horace was a student under the Wizard King, who occupied the tenth seat on the Council of Twelve, with the title of Gallus. He fled the council after the death of the Wizard King, fearing that they would turn against him as well. 
Riddle Guide
In the Japanese game, when talking to him for the first time in the Kingdom he will ask you to accept a quest. Upon accepting, he asks three questions, if answered correctly you receive three strong coffees (ばっちりコーヒー 'right on the mark'  coffee):
1.「マジックマスターの最後のページに描かれている太陽はどこに描かれている?」Question 1: "In the Magic Master's last page, a sun is supposed to be drawn. Where is it drawn?"

『右上 Upper-right』(答え / Correct answer)


2.「マジックマスターの最後のページに描かれている人は何人?」Question 2: "In the Magic Master's last page, how many people are in the drawing?"

『4人 4 people』(答え / correct answer)


3.「最後のページに描かれている流れ星が流れているのはどっち回り?」Question 3: "In the Magic Master's last page there is a falling star, which direction is it flowing?"

『反時計回り Counter-clockwise』(答え / correct answer)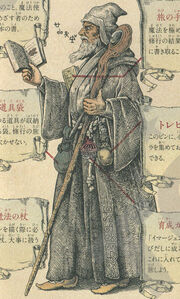 After this, talk to him again (his speech bubble will be yellow) and he will ask you to translate something from
The Nazcaän Script (アストラム語 Asutoramu/Astram language)
:
1. Miranto: "よし まずは マジックマスターの13ぺージを開いてくれ。この13ページに描かれている魔法使いが なんてしゃべっているのか分かるかい?" Ok! First, it's drawn in Magic Master's 13th page. In this 13th page is drawn a wizard but, do you understand what it's saying?"
(Next screen):"13ページの魔法使いが話しているアストラム語を「アストラム言語対応表」を見ながら解読するんだ。分かるかな?" The wizard on the 13th page is speaking Astram language, look at the "Astram language conversion chart" while deciphering it. Can you understand it, I wonder?"

「なるほど I see/indeed」(答え / correct answer)

2. Immediately after, he will ask you another question: "13ページにはアストラム語がもう一つ隠れている。そっちも解読して答えてくれよ。"There is one more hidden thing on the 13th page in the Astram language. Like before, give the deciphered reply." If you answer correctly, you receive (ミストローブ Mist Robe).

「さいこうきゅう highest grade/top class」(答え / correct answer)
When in Bikkini town, the answer for the Japanese version is "いでよなべまじん".