Horace, the Sage of the Ages
Comments

0
432pages on
this wiki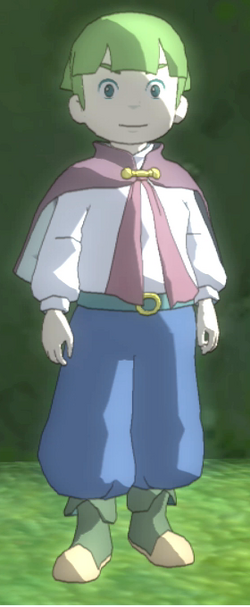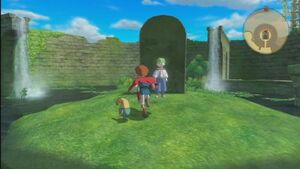 The Sage of the Ages is the ghost of a little boy, named Horace, with green hair and some ego, originally found near a large tombstone near the palace courtyard screen in Ding Dong Dell.  He quizzes Oliver on trivia from the Wizard's Companion and rewards him with spells.
Oliver must use his spell Spirit Medium to talk to The Sage of the Ages whenever they meet.  
Horace implies that he is very, very old but has lost some of his memories.
Meeting Locations
The Sage spent a long time in Ding Dong Dell without meeting anyone who could see or converse with him, and after having a chance to talk to Oliver, develops a case of wanderlust.  He then proceeds to travel around the world, visiting towns and settlements in approximately the same order that Oliver does (though sometimes somewhat behind him).  
He appears in these places (sometimes inside...):
Post game
At Ara Memorae, after the battle with Gallus, Horace would appear as an adult and has somewhat more extensive knowledge than before. He then gives you the Astra spell after answering his question.
Post game, he will post at every swift solutions "I am waiting at Ara Memorae." And then provide a side quest. The side quest reveals Horace was a student under the Wizard King, who occupied the tenth seat on the Council of Twelve, with the title of Gallus. He fled the council after the death of the Wizard King, fearing that they would turn against him as well. 
Horace's Riddles Guide