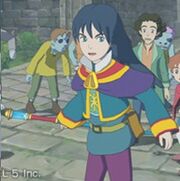 Marcassin (ラース Lars) is the Monarch of Hamelin, the third Other World kingdom that Oliver visits. Marcassin is also one of the four Great Sages, and late in the game, he becomes a member of the party.
His heart was broken by Shadar, voiding him of any belief. As such, he lacked any belief in himself, his looks, and his abilities, allowing his grief to cloud his laws, such as having the entire populace covered in pig masks and suits. It is only after a piece of heart returns to him that he retracts these laws.
Although Marcassin's father was the Emperor of Hamelin, Marcassin is still referred to as a Prince in the present even though he is the presiding ruler. It's possible that during the time he was brokenhearted, his lack of belief made him decide he was not good enough to be an emperor.
Marcassin has no known soulmate in Motorville.
Personality
Marcassin is said to be an extremely talented and handsome young man, though as a child he was very meek and quiet. While he was broken-hearted, he was constantly berating himself and his looks as he lost belief in himself. 
He very much looks up to his big brother, Prince Gascon, who gruffly looked after him as a child, and fully believed he would come back if he were ever in need.
In Battle
Like Oliver, Marcassin uses wands, though his stats are fairly even between Attack and Magical Attack. Upon joining the player's party, he is level 49. Marcassin has an affinity with Daemonia, Nymphae, and Minima familiars.
Trivia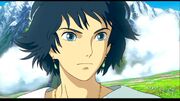 Macassin was possibly named after the prince in the French version of the fairytale "The Pig King" — which was entitled "Prince Marcassin". This may be another explanation as to why he is referred to as a prince rather than an emperor. Marcassin is compared to another Studio Ghibli character, Howl from Howl's Moving Castle. He is also compared to the great sage Crest from Dark Cloud 2.