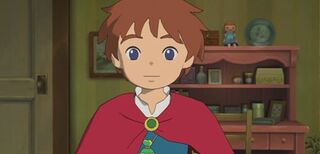 Oliver (オリバー ; Oribaa) is a 13 year old boy and the main protagonist of the series. He is a resident of Motorville with his mother
Allie
who dies. While he was grieving his mother's death, a doll his mother gave him comes to life and reveals his name is
Drippy
. He tells Oliver he can bring his mother back to life by traveling into an alternate world parallel to his own.
Oliver is voiced by Adam Wilson, while the Japanese version is voiced by Mikako Tabe.
Abilities
Edit
While Oliver is adventuring he uses a magic book. He can also summon familiars to help him on adventures. He also uses a wand, which can be used to cast spells, whether Battle Spells or Everyday Spells. His miracle move is
Burning Heart.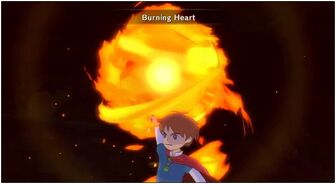 Appearance
Edit
Oliver is a human who wears a yellow shirt, blue trousers, and light red socks. When Oliver travels he can be seen wearing a blue vest over a white shirt, white pants and a red cape. Upon getting his bathing suit in Castaway Cove, he can be seen topless with red shorts. He also has a thick coat to traverse The Winter Isles.
Clothes
Unlock
Images
Motorville Clothes
Default.

Oliver in his normal clothes.

Added by

JAlbor

Wizard Clothes

After going to the Hootique once the clothes are complete in Ding Dong Dell.

Bathing Suit
Acquired in Castaway Cove.

Winter Coat
Acquired in Yule in the Winter Isles.
Oliver can also be seen in as a frog (if you haven't finished the story of the Vault of Tears) . As a frog, he's dark blue with a light blue belly.
Personality
Edit
Oliver is a kind hearted boy. He is very enthusiastic and his behavior is nice to his mom (and everyone else, in general). He also seems to have a liking on mechanical objects.
He also gets along and is very polite with his friends and the people he meets.
" Oliver is an energentic and honest 13 year old boy. he and his best friend Phil are always dreaming about cars and contraptions." -Official Website Description
WARNING: This section contains Spoilers.
Oliver first gets his wand, an old stick in Motorville from Pea. It is used to cast Gateway later. He gets the Magic Wand from Ding Dong Dell after fixing King Tom's heart and defeating the King Rat in Ding Dong Well. Oliver gets the legendary wand Mornstar and its namesake spell after being sent back in time by Gallus. Later on, he also gets the Astra wand (Mornstar's twin) after defeating Gallus. Through Alchemy, a player can also make the Sky Tree Wand (Old Stick and a Mirror of Truth). 
Soulmates
Edit
WARNING:This section also contains major spoilers.
Oliver has two different soulmates that we meet, one during the normal game and one during the postgame content. Both have a rather profound impact upon his life, though each is vastly different.
Shadar: The front and center main villain for most of the game. When defeated, he saves Oliver by severing their soul bond.
The Conductor: The Conductor is an enigmatic figure with a whip-thin body and a gigantic cartoon rabbit head. He asks Oliver to seal rifts that have appeared in the other world. When these are sealed all in all, he'll take Oliver to a very special place.
Oliver is the only character who has two "victory" poses. In his Motorville clothes, he will end the battle by wiping his hand across his forehead and commenting, "Phew..." In his Wizard clothes, he will raise one of his arms into the air and say something like "We did it!" or "We won!"
Oliver has a striking resembalence to 

Markl

 from Howl's Moving Castle (movie)