Spoiler warning!
This section contains plot details, which may spoil your gameplay.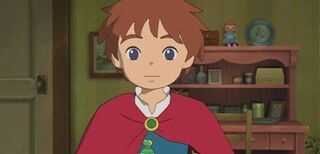 Oliver (オリバー Oribā) is a 13 year old boy and the main protagonist of the series. He is a resident of Motorville with his mother Allie who dies in the beginning of the story. While he was grieving his mother's death, a doll his mother gave him comes to life and reveals his name is Drippy. He tells Oliver he can bring his mother back to life by traveling into an alternate world parallel to his own.
Oliver is voiced by Adam Wilson in the English version and by Mikako Tabe in the Japanese.
Abilities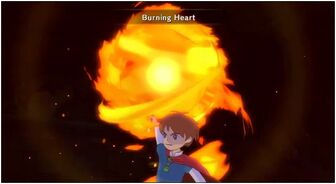 While Oliver is adventuring he uses the magic book known as The Wizard's Companion to aid him in battle. He also has the ability to summon familiars to help him on adventures. He can cast spells in the game with the aid of his Wizard's Companion and a wand, whether for everyday use or in battle. While not very apt, Oliver is also capable of using his wand as a melee weapon, he can hit his opponents with his wand however it deals very little damage in comparison to his spells.
His Miracle Move is Burning Heart.
Appearance
During his initial appearance in the game, Oliver wore a yellow shirt, blue trousers, and light red socks and blue and white shoes. When Oliver travels in the other world, he can be seen wearing a blue vest over a white shirt, white pants and a red cape. Upon getting his bathing suit in Castaway Cove, he can be seen topless with red shorts and no shoes. When travelling in The Winter Isles, Oliver wears a thick, blue longcoat with white linings, dark gloves and brown boots. He also wears his Locket around his neck in almost every clothing (aside from his Motorville Clothes due to not having attained the Locket in the beginning of the game).
Clothes
Garments
Unlocked
Image
Motorville Clothes
Default
Wizard Clothes
After going to the Hootique once the clothes are complete in Ding Dong Dell
Bathing Suit
Acquired in Castaway Cove
Winter Coat
Acquired in Yule on the Winter Isles

Added by

ChronoPinoyX
Oliver can also be seen as a frog (if you haven't finished the story of the Vault of Tears). As a frog, he's dark blue with a light blue belly.
Personality
 "Oliver is an energetic and honest 13 year old boy. He loves tinkering with machines, and he and his best friend Phil are always dreaming about cars and contraptions."  —Official website description
Oliver is a kind hearted boy. He is very enthusiastic and his behavior is nice to his mom (and everyone else in general). He also seems to have a liking on mechanical objects as seen in the beginning of the game. He gets along very well with his friends as well as the people he meets and has a very polite manner to most of the people he meets, speaking to royalty by addressing them with their respective titles (an example is calling King Tom XIV his "Meowjisty"). 
He has a strong sense of justice, going as far as to confront both the Dark Djinn himself as well as the White Witch in order to save the world from being destroyed even after learning the truth about his mother (which was his drive to pursue his adventure in the beginning). He believes that while the world may be flawed, it is still a place where many people strive for the greater good even after all the suffering and destruction it has gone through in the past. His strong belief that the world is better even after what it has gone through has earned him the respect of both Shadar and Queen Cassiopeia as well as the rulers of the Three Kingdoms. 
Wands
For the complete list of wands, see Wands.
Oliver first gets his wand, an Old Stick in Motorville from Pea as a means to cast the spell Gateway in order to travel to the Overworld. He gains the Magic Wand in Ding Dong Dell after fixing King Tom's heart and defeating the Rat King  in Ding Dong Well. He later gains the legendary wand Mornstar  after being sent back in time by Gallus and learns the wand's namesake spell after being confronted by Vileheart a second time. Later on, he also gains the Astra wand (Mornstar's twin) after the party defeats Gallus and can learn the wand's namesake spell from Horace if Oliver has already solved his riddle when he returns to Ding Dong Dell. Through alchemy players can also gain the Sky Tree Wand, this is done by combining Old Stick from the start of the game with the Mirror Of Truth.
Spells
Oliver learns an array of spells he can use in order to progress through the game. These spells are a mixture of both combat spells as well as everyday use spells which are used to assist him (or others) as the game progresses. In order to get all of Oliver's useable spells, the player must complete the unmarked side quests given by Horace which entails answering various riddles.
Soulmates
Oliver has two different soulmates that we meet, one during the normal game and one during the postgame content. Both have a rather profound impact upon his life, though each is vastly different.
Shadar: The front and center main villain for most of the game. Known as the Dark Djinn, he is also known as the Executor, he is charged with destroying Oliver. He is the polar opposite of Oliver, whom is known as the Pure-Hearted One. When defeated, he saves Oliver by severing their soul bond.
The Conductor: The Conductor is an enigmatic figure with a whip-thin body and a gigantic cartoon rabbit head. He first appears in a mysterious area located at the south of Ding Dong Dell and asks Oliver to seal rifts that have appeared in the other world. When these are sealed all in all, he will take Oliver to a very special place
Trivia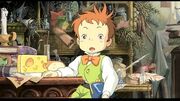 Oliver is the only character who has two victory poses. In his Motorville clothes, he will end the battle by wiping his hand across his forehead and commenting, "Phew…". In his Wizard clothes, he will raise one of his arms into the air and say something like "We did it!" or "We won!"
Oliver has a striking resembalence to Markl from Howl's Moving Castle