The Winter Isles

Location Information
Type
Overworld
World
Ni No Kuni
The Winter Isles is a group of islands and one of the four major locations of Ni no Kuni, with The Summerlands, Autumnia, and Teeheeti.
Only one inhabited location, Yule, is found in the Winter Isles.
Geography
Stated above, the Winter Isles are mainly a group of islands with one large landmass.
Climate
The Winter Isles suffers from permanent cold climate and blizzards. Due to these extreme conditions, only a few to borderline number of species survive this environment, and vegetation is sparse.
Locations
Images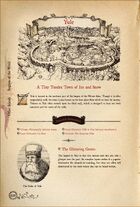 Ad blocker interference detected!
Wikia is a free-to-use site that makes money from advertising. We have a modified experience for viewers using ad blockers

Wikia is not accessible if you've made further modifications. Remove the custom ad blocker rule(s) and the page will load as expected.