Wizard's Companion
Comments

0
436pages on
this wiki
The Wizard's Companion is a 340-page book that
Oliver
takes on his adventures. It contains brief descriptions of every
Familiar
and of all
Spells
.
Contents and Author
The Wizards Companion contains 7 chapters, listed below. The book contains illustrations, runes and drawing them, the bestiary of familiars, regions of the world, and many more that a wizard would need to learn.
SPOILER ALERT
The Wizards Companion was first written by
Horace
as a guide for
Cassiopea
to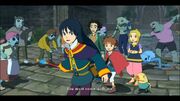 study magic with. He added spells such as
ashes of resurrection
to make it fit for royalty and later deeply regret the vague nature of these sort of spells in the book, as it ultimately lead to the queen's belief that mana would help everyone rather than turn them into animal-based zombies.
Chapters
​Trivia
If you pre-order the Wizards Edition, you will get a physical copy of this book.